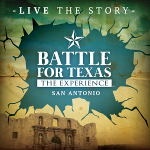 Yesterday was Go Texan Day here in Houston and seeing everyone all over the city dressed in their cowboy/cowgirl getup just reminded me of why I'm so proud to be a native Texan. This state has an abundance of history to appreciate which is why I try to indulge in it every chance I get. It's been almost three years since I last
visited San Antonio
, I can't wait to go back this summer and stop by Battle For Texas: The Experience.
JOURNEY BACK IN TIME IN THIS COMPLETELY IMMERSIVE ADVENTURE! Showcasing the world's most historically significant Alamo artifacts and connecting them through heart-racing multimedia re-enactments to the past they left behind.
OVER 250 ARTIFACTS TOGETHER FOR THE FIRST TIME. Bowie, Travis, Crockett, Sequin and Santa Anna. They're all represented in this incredible collection of many never-before-seen artifacts. This unforgettable, curated exhibition provides views with an in-depth perspective on the stirring story of the Battle of the Alamo. You'll come away inspired by the historic battle and beaming with Texas pride .
EXPERIENCE THE REAL STORY OF THE ALAMO TOLD LIKE NEVER BEFORE. Experience the daily lives of early Texas settlers, the tensions leading up to the Texas Revolution, and the climactic battle in which the Alamo defenders sacrificed their lives for the cause of freedom.
Special $5 child ticket (plus tax & fee) with the purchase of one adult ticket at Battle For Texas: The Experience. Must present
coupon
.